In-Lab Sp. z o.o. (Ltd) delivers innovative hardware products and software solutions to the public transport industry in Poland and across the Western Europe.
We take R&D extremely serious – it's simply a part of everyday duties and it strongly influences every single product we offer. In-Lab team keeps looking for new ideas, technologies and investment opportunities. Our professionals see capabilities and chances, while others see threats and difficulties only. We strongly believe that such approach allows us to deliver the highest quality and innovation to our Customers.
Please have a look at our offer briefly presented on the Solutions page and check out the press releases related to In-Lab on Media about us page.

In-Lab Sp. z o.o. is a member of the Polish Association of Urban Transport Employers (Polski Związek Pracodawców Transportu Publicznego, PZPTP).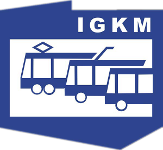 In-Lab Sp. z o.o. is also a member of the Economic Chamber of Urban Transport (Izba Gospodarcza Komunikacji Miejskiej, IGKM).