The SUN-BUS is a proven photovoltaic solution for vehicles, aimed to improve the energy balance. The system converts sunlight directly into electricity without pollution, noise and other negative impact on the environment. It is designed and customized especially for buses used in public transport, both diesel-powered and electric ones, and can be easily connected to 24 VDC onboard power system. The SUN-BUS solution has been already installed on hundreds of buses delivered by the leading bus manufacturers, including Solaris, Daimler, MAN, Autosan, Solbus and more.
The SUN-BUS system has been awarded the Medal of the 13th International Fair of Public Transport TRANSEXPO 2016 held in Kielce, Poland ("Others" category).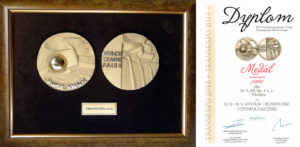 In-Lab has been recommended to the Modernization of the Year 2016 contest for the SUN-BUS photovoltaic solution installed in 2016 on 50 city buses in Lublin, Poland.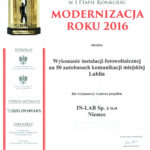 Currently operating vehicles are expected to be equipped with numerous electrical devices, like air conditioning, internal lights, tracking modules, WiFi, ticketing machines. All these devices consume a lot of energy and increase the fuel consumption in case of a diesel bus or decrease the battery charge level (and a range) in case of an electric bus. Such extensive consumption can even prevent a diesel bus from starting the engine after a longer pit-stop or during a winter morning. We believe that the SUN-BUS is the best response to these challenges.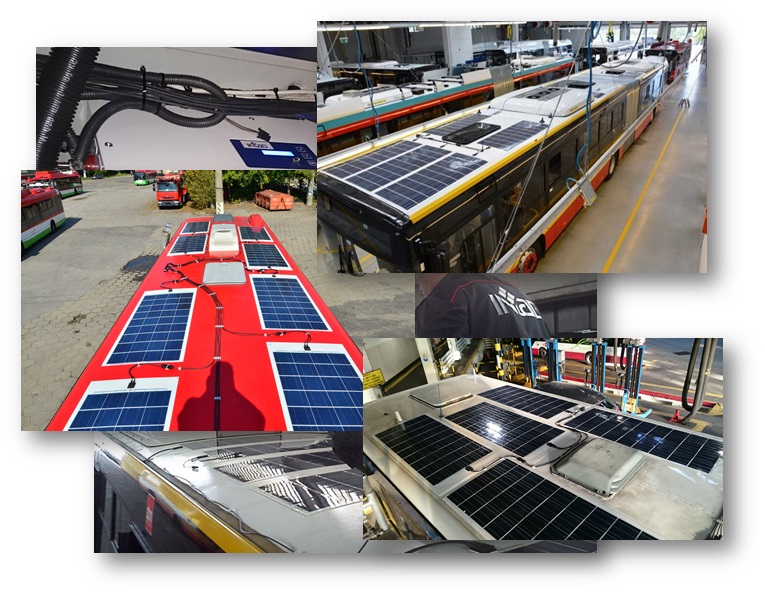 Benefits of the SUN-BUS solutions are the following, but not limited to:
Reduction of energy consumption – i.e. fuel in case of a diesel bus and electric energy from traction batteries, which is converted to 24 VDC, in case of an electric bus.
Possibility to reduce the required capacity of traction batteries (in case of an electric bus), which decreases the cost of a bus and its weight.
Reduction of CO2 emission (in case of a diesel bus).
Increase the reliability of the 24V installation of a bus.
Battery recharging when a bus is parked at the pit stop.
Extended battery life – both 24 VDC batteries and traction batteries – because of the lesser DOD (Depth Of Discharge), which positively affects the number of charging cycles that traction batteries can undergo.

Our test showed that 1.5 kWp SUN-BUS installation reduced the energy consumption by 6% in case of an electric bus that was consuming 1.8 kWh/km, with the air condition and other on-board equipment turned on (GPS, WiFi, ticketing machines, LED lights etc.), at the speed of 18 km/h. As said above, the SUN-BUS system can be an important factor in terms of choosing the capacity of traction batteries or extending the vehicle's range.
The SUN-BUS system is powered by desired number of elastic (flexible) photovoltaic (solar) panels, connected in the way that doesn't cause them to be downgraded to the worst performing one. Unlike traditional photovoltaic panels, no glass is used, so the SUN-BUS panels have the required flexibility and can be places even on a curved roof of a vehicle. Moreover, these panels are also 5x more lightweight in comparison to traditional panels of the same size. Due to advanced lamination applied on a surface, the panels are completely resistant to weather conditions. There are many sizes and sub-types of panels available, including the back-contact high efficiency cells. In-Lab will always help to choose the best configuration for a specific scenario.
By using an optional communication module, the SUN-BUS system can be easily connected to the cloud and send all telemetric data on regular basis. Advanced integration with vehicle's CAN interface is also possible.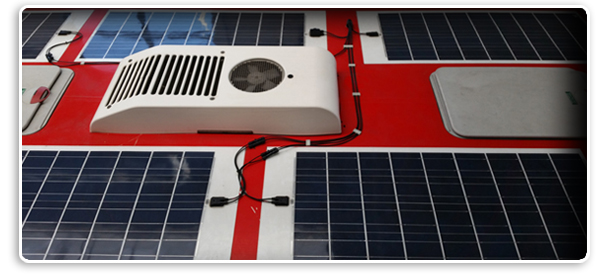 The SUN-BUS system can be installed in a variety of vehicles or units, including sea vessels or ferries. In case of an interest in actual data showing the efficiency of the system (savings on fuel, energy output, reduction of CO2 emission), please do contact us.