SUN-BUS – proven photovoltaic solution for vehicles
The SUN-BUS system converts sunlight directly into electricity without pollution, noise and other negative impact on the environment. It is designed and customized vehicles (buses) used in public transportation and can be easily connected to 24V power system. Moreover, the SUN-BUS is characterized by ease of installation, clarity of applied solutions and user friendly interface for a supervisor, which enables to check the state and condition of individual system elements.
Benefits of the SUN-BUS solutions are the following:
reduction of fuel consumption,
reduction of CO2 emission,
increase the reliability of the installation of 24 V in a bus,
battery recharging when a bus is parked at the pit stop witch engine switched off,
extended battery life.
The SUN-BUS system is powered by elastic (flexible) photovoltaic (solar) panels. Regarding the solar modules, unique technology is involved – no glass is used during production, so that SUN-BUS panels have the required flexibility and can be places even on a curved roof of a vehicle. Solar panels are completely resistant to weather conditions, because advanced lamination is applied on the surface of a panel. Needless to say, that only high quality materials are used during production and installation (deployment) process. The SUN-BUS panels are mounted with a silicone or double-sided mounting tape.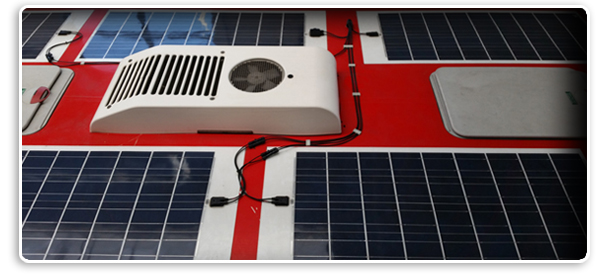 The SUN-BUS system can be installed in a variety of vehicles or units, including sea vessels or ferries. In case of an interest in actual data showing the efficiency of the system (savings on fuel, energy output, reduction of CO2 emission), please do contact us.

Please be sure to check the meaningful figures presented on the References page.